PitchIt! Business Plan Competition Winner Announced.
CONTACT: BELINDA WICK-GRAHAM
TOWN OF MINTO
5941 HWY 89
HARRISTON, ON
N0G 1Z0
MEDIA RELEASE
Shrimp Canada wins the PitchIt! Minto Business Plan Competition
Harriston June  21, 2017: 
In 2012, the Town of Minto initiated the PitchIt! Business Plan Competition in an effort to grow small businesses in Minto and increase awareness of the resources available. Now in its 6th year the competition is geared towards entrepreneurs that wish to open, purchase, expand, or re-locate an existing business within the Town of Minto.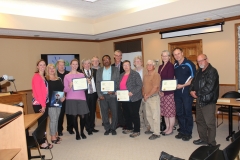 Nine entries were received and four finalists submitted full business plans and made presentations to the judges in early June. "This year's PitchIt! Competition provided a great mix of new, re-located and expanding businesses" said Belinda Wick-Graham, Manager of Economic Development for the Town of Minto. "Only five points separated fourth place from first place, anyone could have won this" continued Wick-Graham. The four finalists were: Shrimp Canada, Ag. Business & Crop Inc., Harriston Preschool and Alpaca Time. "This was an amazing group of local entrepreneurs. I found their business plans, presentations and enthusiasm made judging a real pleasure and even after all was said and done I could not have even guessed who would win they were all that good, and as it turned out ,this was the closest competition ever" said John Burgess, Past President of the Minto Chamber of Commerce.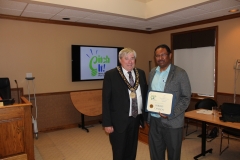 The winner of the 2017 Pitch It! Business Plan Competition is Shrimp Canada. Shrimp Canada is owned by Dr. Ranjan Pradhan and is a new start-up business based in Guelph that will be establishing a shrimp hatchery within the Palmerston Industrial Park. Shrimp Canada will be initiating the sustainable farming and sale of fresh white leg shrimp to local seafood distributors and consumers. 
"I would like to take this opportunity to thank the Town, the judges, the Mayor and Council and all the people of the Town for the support and encouragement.  I felt so welcomed to the community during my previous meeting with the Mayor, and now winning this competition has made Shrimp Canada so inclusive to the diversity and growth of the Town.  I am proud to be part of the Pitch it Minto competition.  The motivation from the outcome of this competition will surely shape my business for a great future in Minto and I am committed to drive it towards safe and sustainable employment generation in the community" said Dr. Pradhan.
Thanks to the generous support of community sponsors all finalists will receive over $1,500 worth of prizing and the winner will take home over $12,500 in cash and prizes.
PRIZES:
WINNER
• $3,000 Start-Up Capital
Courtesy of the Town of Minto, Minto Chamber of Commerce, Saugeen Economic Development
Corporation & Mayor George Bridge

• Coaching Package- 12 sessions ($600 Value)
Courtesy of Guelph Wellington Business Enterprise Centre

• One year membership to the SEDC All Inclusive Business Excellence Training Program ($2,000 Value)
Courtesy of Saugeen Economic Development Corporation
Includes: 20 online training videos, monthly interactive training workshops, bi-annual business coaching, monthly success tips newsletter, quarterly tax tips newsletter, lending library, personal business mentor (when available)

• One year free membership with the Minto Chamber of Commerce ($170 Value) Courtesy of the Minto Chamber of Commerce

• Advertising Package ($1,000 Value) Courtesy of Country 93

• Advertising Campaign ($500 Value)
Courtesy of AM 920 CKNX, FM 94.5 The Bull & FM 101.7 The One

• Advertising Campaign ($500 Value) Courtesy of 88.7 FM The River

• Website Evaluation, Design, CMS Setup & Search Engine Optimization ($2,000 Value) Courtesy of OSIM Interactive

• Quarter Page Ad in the Minto Express & the Independent Plus and a New Business Story and Photo
($400 Value)
Courtesy of the Minto Express & the Independent Plus

• 1 Year Basic Business Banking Package, Advising by Business Account Manager and Security Deposit Box ($300 Value) Courtesy of RBC Royal Bank
• 1 Year Basic Banking Package, Meeting with a Business Advisor and Business Credit Card (the option of a small business overdraft service fee waived for the first year or the credit card first year fee waived) ($192 Value)
Courtesy of CIBC Bank

• 500 Full Colour Business Cards ($60 Value) Courtesy of Innovative Print

• Double Size Ad in the Rural Route Magazine ($125 Value)
Courtesy of Innovative Print

• 3 Months of Free Internet Service & Feature of Competition and Winning Business on Wightman
Community Channel ($1,250 Value)
Courtesy of Wightman Telecom
Runner Up
• Business Card Ad ($102 Value)
Courtesy of the Minto Express & Independent Plus

• 5 Training Sessions ($160 Value)
Courtesy of the Guelph Wellington Business Enterprise Centre

• 1 Month of Free Internet Service & Feature of Competition and Business on Wightman Community
Channel ($500 Value)
Courtesy of Wightman Telecom
3rd Place
• 5 Training Sessions ($160 Value)
Courtesy of the Guelph Wellington Business Enterprise Centre

• 1 Month of Free Internet Service & Feature of Competition and Business on Wightman Community
Channel ($500 Value)
Courtesy of Wightman Telecom
ALL FINALISTS
• ½ Page Story ($380 Value)
Courtesy of the Minto Express & Independent Plus

• One year free membership with the Minto Chamber of Commerce ($170 Value) Courtesy of the Minto Chamber of Commerce

• 6 month membership to the SEDC All Inclusive Business Excellence Training Program ($1,000 Value)
Courtesy of Saugeen Economic Development Corporation
Includes: 20 online training videos, monthly interactive training workshops, bi-annual business coaching, monthly success tips newsletter, quarterly tax tips newsletter, lending library, personal business mentor (when available)