What you need to know about...Ontario Employment Standards upcoming changes: BILL 148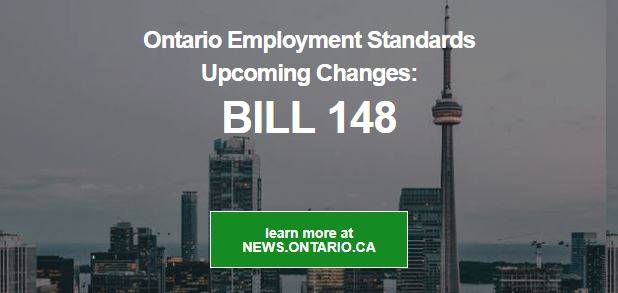 You have likely heard of Bill 148, Fair workplaces and Better Jobs Act, 2017 in the news...
This bill is proposing some dramatic changes to Ontario's Employment Standards Act.  Bill 148 makes amendments to both the Employment Standards Act (ESA) and the Labour Relations Act (LRA), and it is crucial that employers become familiar with how these changes may impact their business.
At this point the bill has passed its second reading in the house, however it has not reached Royal Assent. Therefore, the Bill is still pending. If passed, many of the changes come into effect as early as January 1 2018 and it is critical that employers be aware of the implications.
As we approach this date, there are several items that may impact your payroll processing effective January 1st, 2018. Below are 4 of the major changes that are part of this bill; however employers need to review the entire Bill to determine what other changes will impact their business.
The Ontario minimum wage will increase from $11.40 to $14.00 effective January 1, 2018.
For employees with over 5 years of service with an employer, they will now be entitled to 6% vacation pay (previously it was 4% regardless of years of service.)
The calculation and criteria for Statutory Holiday Calculation is changing.
Personal Emergency Days - employees (regardless of size of company) are entitled to 10 personal emergency days, 2 of which must be paid.
Below are two links that you may find helpful to get familiar with Bill 148: