2017/18 Community Achievement Award Winners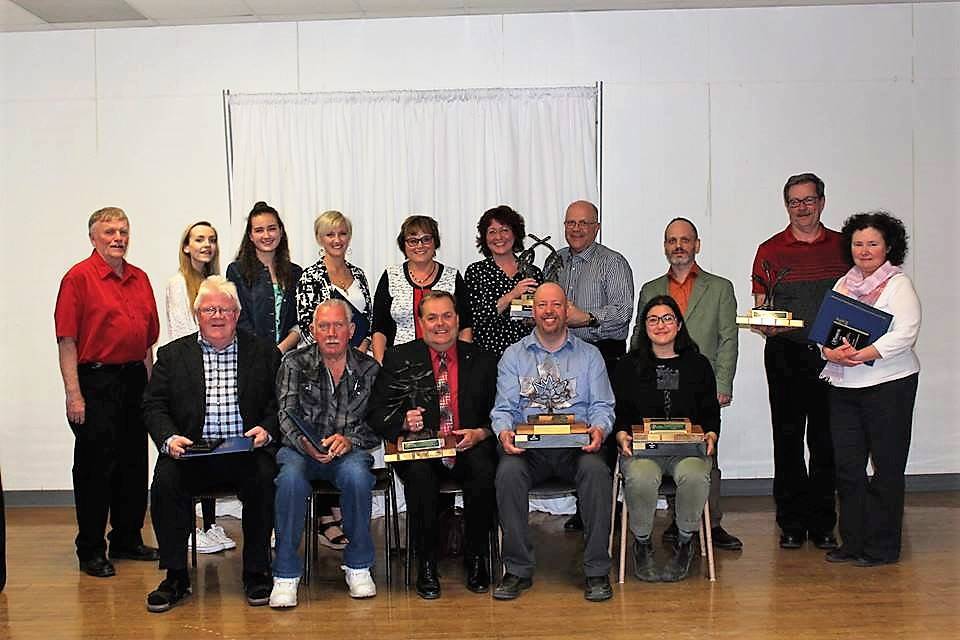 Back L-R: Wayne Martin; Caitlyn Aasman; Charlotte Hale; Annette Malott; Trish Ruetz; Sue Hendricks; Michael Hendricks; Tony Tsotros; Ron McTaggart; Heather McTaggart.
Front L-R: Bill Smith; Gerald D'Arcey; Randy Ruetz; Glen Hall; Jerrica Li
On Thursday April 26th the Minto Chamber of Commerce held our 9th Annual Community Achievement Awards dinner at the Harriston Legion Br. 296
We had over 30 nominations for the various awards and nearly 100 attendees, it was a great night to celebrate Minto!
We would like to thank and congratulate ALL of our nominees.
The Winners are....DRUMROLL PLEASE.....
Minto Chamber of Commerce Lifetime Achievement Award
Randy Ruetz
Wightman Young/New Entrepreneur of the Year Award 
Northern Flora
Town of Minto Business of the Year Under 10 Employees Award 
The Old Post
McLaughlin Financial Business of the Year Over 10 Employees Award 
Palmerston Dental 
OSiM Interactive Community Involvement Award 
Palmerston Foodland
Saugeen Economic Development Corporation Exceptional Customer Service Award 
OSiM Interactive
Minto Youth Action Council Outstanding Young Citizen Award - 2 Awards
Caitlyn Aasman & Charlotte Hale
Community Achievement Committee Special Recognition Awards 
Crossroads Life Church Harriston- Canada Day Celebration
Clifford Homecoming Volunteers & Committee
U14 Canadian Boys Fastpitch Championship Event
Brenmar Transit Inc.
Great Lakes Clifford Truck Show
Happy Anniversary to:
10 Years Harry Stones Social House
30 Years Dr. William van Sickle Family Dentistry
35 years Harco Ag Equipment
50 years D'Arcey Construction Ltd.
110 years Wightman
Thank you to all of our sponsors, judges and attendees. We appreciate your continued support!
Judges:
Rose Austin from Saugeen Economic Development Corporation
Gerry Horst from Ontario Ministry of Food and Rural Affairs
Harold DeVries, Small Business Advisor
Award Sponsors:
Wightman
Saugeen Economic Development Corporation
Mclaughlin Financial Group
OSIM Interactive
Town of Minto
Minto Youth Action Council
Harry Stones Social House
Leslie Motors
Brown Insurance Brokers
Facility & Catering:
Harriston Legion Br. 296
Legion Ladies Auxiliary
Congratulations and thank you to all!