Fallis, McMillan & Ferrier
The law firm of Fallis, McMillan & Ferrier was founded in Mount Forest in 1938 by the late Claude E. Fallis, LL.B., Q.C., and presently has offices in Mount Forest, Durham and Palmerston, Ontario.
Today, the firm's partners, Peter T. Fallis, Ernest J. McMillan, and Alexandra A. Ferrier, provide a broad range of legal services across the Wellington, Grey, Bruce, Perth and Dufferin County areas. Although located in small rural communities, the lawfirm prides itself in offering to the public, experience and knowledgeable legal services in a wide range of areas including real estate purchases and sales, mortgage transactions, will drafting and estate planning, municipal law, corporate and commercial law, and civil litigation.
The partners of the lawfirm appear before various boards and tribunals, including the Ontario Municipal Board, the Ontario Labour Relations Board and various levels of Courts including the Small Claims Court, the Ontario Court of Justice and Ontario Superior Court of Justice, the Tax Court of Canada, and have in the past appeared on appeals before the Ontario Court of Appeal and the Supreme Court of Canada.
The partners of the firm strive to be accessible and accommodating to the busy lives of its clients, with evening and weekend appointments available.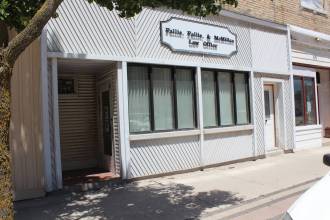 Contact Info
Contact Name

Ernest McMillan

Phone

Fax

519-343-3528

Email

Website
Address
233 Main St. W.
Palmerston
,
N0G 2P0
Hours
Monday 9:00 AM to 5:00 PM
Tuesday 9:00 AM to 5:00 PM
Wednesday 9:00 AM to 5:00 PM
Thursday 9:00 AM to 5:00 PM
Friday 9:00 AM to 5:00 PM
Saturday Closed
Sunday Closed