Roc 'N' Duke's Pet Supplies
We carry top brand dog and cat food, toys and treats. Your pets best interest is what matters to us!
Founders of Roc'n'Duke's; Dawn and Phil are rooted in Fordwich, Ontario. Perfectly nestled between their flagship store in Palmerston and their newly acquired store in Walkerton. Roc'n'Duke's Pet Supplies is lovingly named after their two beloved Male German Shepherds Roc and Ducati! The leaders of the pack at Von Rothhaus German Shepherds. Roc'n'Duke's is a privately owned supplier of premium pet foods, pet essentials and helpful information. Offering the necessary tools to ensure your pet attains and maintains the greatest quality of life. In addition, Roc'n'Duke's Pet Supplies store and online presence they provide obedience classes and an abundance knowledge and training material to advice at an industry-leading standard. Their roots are driven by your pet's happiness, guaranteed value, and the peace of mind that comes from knowing your pet needs come first.
For Obedience Class info
please visit K9 Perfection Training
For Top Quality German Shepherds Breeding
please visit Von Rothhaus German Shepherds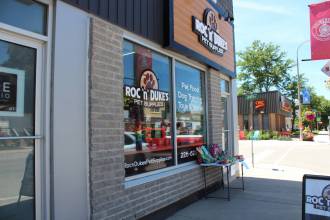 Contact Info
Phone

Email

Website
Address
258 Main St. W
Palmerston
,
ON
N0G 2P0
Hours
Monday 11:00 am - 5:00 pm
Tuesday 11:00 am - 5:00 pm
Wednesday 11:00 am - 5:00 pm
Thursday 11:00 am - 6:00 pm
Friday 11:00 am - 6:00 pm
Saturday 11:00 am - 3:00 pm
Sunday 11:00 am - 3:00 pm